3M Night Vision
3M Night Vision dealer in Columbus, Ohio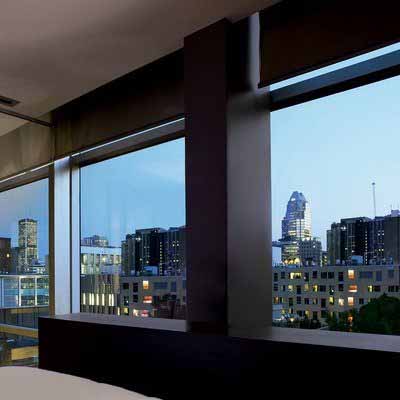 3M Night Vision Details
Offers enhanced views with low interior reflectivity, especially at night.
Rejects up to 71% of the sun's heat to help reduce glare and eye discomfort.
Significantly blocks the amount of harmful UV rays that cause fading, helping to extend the life of your furnishings.
Made with a scratch-resistant coating to ensure clear views.
3M™ nano-technology enhances the film's color stability.
Includes a comprehensive warranty from 3M.
3M Night Vision provides enhanced views, savings, and comfort. Better sight at night. The night vision series helps block the sun's damaging UV rays, reduce glare and reject up to 71% of the sun's heat. 3M Night Vision Night Vision films allow 15% to 35% of the natural light into your rooms by day, and thanks to a low interior reflectivity, you can still enjoy the view out by night.
Great heat rejection helps provide energy savings and improved comfort. Plus, higher exterior reflectivity means you can enjoy enhanced privacy with your windows. CONSUMER WARRANTY: Selecting 3M Window Films gives you peace of mind. That's because we have one of the most comprehensive warranties you can get; backed by a company you know and trust. 3M Window Films come with a limited lifetime warranty when professionally installed on your home.
Contact Us About 3M Night Vision
Are you interested in 3M Night Vision window film? Then contact us now and we will be happy to talk to you about this product! As an official prestige Columbus Ohio 3M Night Vision dealer, we can help!
Service Areas in Columbus, Ohio
Get 3M Night Vision in your Columbus, OH area! We are an authorized 3M Night Vision dealer serving Columbus, Ohio and surrounding areas!
Bexley
Blacklick
Canal Winchester
Clintonville
Columbus
Delaware
Dublin
Gahanna
Galena
Galloway
German Village
Grandview Heights
Grove City
Groveport
Hilliard
Lancaster
Lewis Center
Marble Cliff
Newark
New Albany
Obetz
Pataskala
Pickerington
Powell
Reynoldsburg
Sunbury
Upper Arlington
West Jefferson
Westerville
Whitehall
Worthington
3M Night Vision Columbus Ohio
Average rating:
3 reviews
A client review from Angie's List
Feb 26, 2019
5 star A+ window film review
The company rep was very responsive to my concerns and very helpful in my determining the proper product. I had started out looking at window blinds with another company, but realized this option would be much less expensive and would not impede the views, which I love. The first round of installation had some complications, which the rep was expedient about addressing. Apparently there had been an issue with the product, so they reapplied film to the two windows that had problems. Then, once I realized how great the result was, I added two more windows. At all times it was clear to me that my satisfaction--with the product and with the process--was the number one priority of this company.

Description of work:
I have a wall of windows that face west. Daily, the afternoon sun beats into the room raising the temperature and fading the wood floors. Sunblock installed window film to reduce significantly the amount of UV light that enters the room--dramatically reducing interior temps and blocking the risk of fading.
A client review from Angie's List
Feb 8, 2019
Very fair price for the work!
We had solar film on skylights which needed to be professionally removed due to cracking. We were able to get an appointment quickly and at a convenient time. The service provider did an excellent job. It took him quite a while to get the film completely removed, while standing on a ladder. My husband and I were glad that we hadn't tried to tackle the job ourselves! He was very neat and cleaned up completely. We thought it was a very fair price for the work involved. Would definitely recommend.

Description of work:
Removed old solar film from skylights.
A client review from Angie's List
Jun 2, 2018
3M Night Vision window film review
The Sales Rep was on time and did a thorough evaluation of our windows. Recommended several products by 3M. The cost was very competitive. We opted to go with another provider that uses Vista window film. Would recommend as an installer if you want the Night Vision 3M window film.